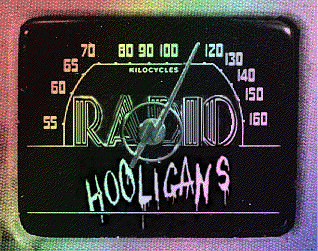 BIN O' BITS
...including a few
AOL won't let you hear!
Just click on the title of the WAV FILE you'd like to download!
LYRICS:

She's on mah TV/ Turn the Internet blue/ Tellin bout Bubba/ His cigar, too/ Oh that little weasel Starr/ And that fat snitch Tripp/ But it's that chubby little intern/ I'd really like to rip/ I got the low down, stinkin, dirty, sick to death of Monica Lewinsky Blues...yeah!
VO:

Hi, Tom Bonette here for Motel Sex. Mister President, lotsa folks wonder why you didn't take yer fling outta the Oval Office and down to a Motel Sex where it belongs. Next time you got a little after hours business with an intern, c'mon down to a Motel Sex. And 'cuz yer kinky, we'll leave the light on for ya.
JINGLE LYRICS:

"What can get Bubba's DNA out of Monica's dress? Looks like a job for Presidential Sperm Stain Spot Remover!"

OVERHEARD IN WARTIME BOSTON:

"Oh Joanie! I think I just danced with the Fuerher!"
REAL FM PIRATE RADIO STATION ID:

"KBLT...104.7...ready on turntable two...the Space Shits...terrible name for a band..."

PRETTY MUCH WHAT THE TITLE DESCRIBES:

Included by popular request.
| | |
| --- | --- |
| | "Need plans for that pipe bomb?" KABOOM! "Wanna convert that assault weapon to full auto?" HAHAHA! RATATATAT! "Lookin for a hate group to join?" SEIG HEIL! SEIG HEIL! "Find it all, and more! Just click on..." BINK! YA-HOOIE! "Do you, er...Yahooie?" |
| | |
FOR LATEST HOOLIGAN BITS, DRIFT OVER TO