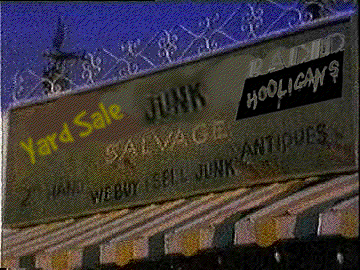 RADIO HOOLIGANS
YARD SALE
If you're truly interested in owning any of this stuff, drop us an EMAIL.
NOTE FROM JR UBU, ESQ.: All items shipped on receipt of certified check. Buyer pays postage. Caveat Emptor. Habeus Corpus. Carpe Diem. Latin always makes my stomach growl. Where's that bag of pork rinds?
---
"UPN" BASEBALL CAP. One size fits all. $5
MISC. FOREIGN COINS. Mexican pesos. Deutsch pfennigs. $8
BUSTED LAWN CHAIR. Aluminum/plastic. $4
JOHN TESH CD. $1
---
Recent YARD SALE Activity
Desperate for cash, the Radio Hooligans try and sell off some of their microphones. Sadly, the only buyers are marauding, bargain-seeking robots.
---