The Gallery Of
Hooligan Scrawls
While the RADIO HOOLIGANS have applied their considerable talents to the task of keeping you entertained with satirical radio comedy bits over the years, they've also been busy amusing themselves half to death with a series of self-parodying drawings and sketches. As with most RADIO HOOLIGAN lore, no one knows exactly how this got started. Legend has it that one day in the early 1980's, deep in the bowels of a seedy Cambridge, Massachusetts bar not far from the Harvard University campus, Henry and Joe sat nursing individual pitchers of ale. While this in itself was not unusual, what transpired next would indeed change the course of HOOLIGAN history, some say irrevocably.
HANK AND JOE IN HARVARD SQUARE
One of the pair (let's say it was Henry) produced a fine-point felt-tip pen from within the musky interior of his green parka and proceeded to create a rather bawdy and tasteless sketch (depicting Joe in a compromising situation with one of the waitresses) on one of the soggy bar napkins. Upon completion, he proudly shoved his artistic creation across the bar for Joe to admire. As expected, Joe's hearty guffaw echoed from the walls of the squalid tavern. When the atmosphere of mirth and jollity subsided somewhat, Joe took pen in hand and, after a fashion, sprung forth with an equally humorous satirical illustration (depicting Henry being dragged under the wheels of a train).
Thus began a vigorous exchange of cartoons that seemed to only increase as the years went by. Henry's collection alone (dubbed "The Archives") filled all available floor space in the upper story of his spacious home in Winthrop, Massachusetts. The cartoons were exchanged - sometimes daily - by means of post card, fax, and even as Internet GIF's.
Eighteen or so years later, they're still at it.
Below, you can view a small sampling of the actual drawings.
---
HANK UNDER THE GUN AT WBCN-FM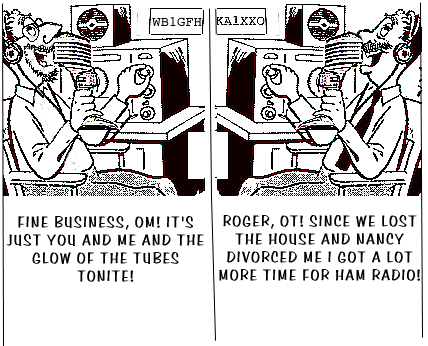 JOE AND HANK AS HAM RADIO OPERATORS
JOE AND HANK ON MARTHA'S VINYARD, 1980
HANK GETS A NICKNAME
HOOLIGANS MEDICAL EXPERIMENT