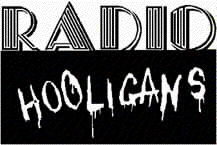 HISTORY
CHAPTER 3: A REND IN THE HOOLIGAN CLOTH
The Radio Hooligans were suddenly torn asunder in 1988, when Joe went West for Real Fame (not to mention the cash). One of their final sessions (that developed the lesser-known works, "Buffalo Balls", "Too Fat to Live", and "Magic Kazoos on Parade") was under the audio guidance of Kevin McLaughlin, a brilliant audio engineer, discovered by Henry, working in a cave with two cups and some string. (To this day Henry refuses to divulge what he was doing in the cave at the time.)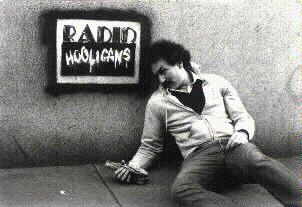 JOE LEAVES. HANK GOES ON A BENDER
CHAPTER 4: NEW LIFE FOR HOOLIGANS? SURE, WHY NOT
Henry soon realized he was less than nothing - virtually a negative integer - on his own, and teamed up with Kevin to form what has been called "NuHooligans" (mainly by a scurrilous Joe, who calls his time in the team "Classic Hooligans").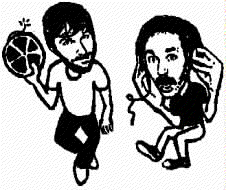 KEVIN (L) AND HENRY (R), THE "NU HOOLIGANS"
The [nu] Radio Hooligans enjoyed a prolific Rennaisance on the air at WBCN, and still never received ONE red cent for it. (Charles finally knuckled under and gave Henry & Kevin a pair of very nice "Big Mattress" jackets with their name embroidered, after being badgered sufficiently.) H&K added many bits to the legendary repertoire: "Mall Master", "1-900-GODTALK", "Space Alien Landscaping Service", "The Berlin Wall-Doll" and "Orthopedic Chalet", to name just a few of dozens.The bits were more recognizeable as being of Hooligan origin than earlier ones, due to their signature tag, "Brought to you by...The Radio Hooligans!" (Hey, we were fed up with not only getting no money, but no credit was too much!)
CHAPTER 5: THE HOOLIGAN CLOTH TATTERED ONCE MORE
After more than five years with Kevin, Henry also succumbed to the lure of Hollywood. There he was reunited with Joe, but the two, by all accounts, were thoroughly unproductive as far as new Hooligan material. Joe stood poised on the brink of becoming a fabulously successful writer/director/mogul of low-budget movies and TV. (When things failed to materialize, Joe stood poised on the letter H of the Hollywood sign, calculating wind-shear.)

JOE, STILL IN LA
Henry spent but a year and a half in the clutches of Tinseltown, somewhere in the bowels of Network Television. It was there he realized the mantra known to "Wizard of Oz" fans the world over..."If I only had a brain!" He returned renewed and refreshed (if somewhat delusional) home to Boston.

HENRY, HOME IN BOSTON
Would Henry and Kevin pick up the legacy of the Hooligans? Would Joe leap from the Hollywood sign? Would anyone care?
CHAPTER 6: MIRACLE IN CYBERSPACE: THE CARDINALS OF COMEDY ARE ORDAINED
After a brief resurgence and a few comedy bits produced for old pal Charles LaQuidara (then on Boston's WZLX-FM) Henry and Kevin went into a period of hibernation. It was during this slumber that Henry and Joe bumped into each other on AMERICA ONLINE. A distinct, hollow THUNK was heard as their heads collided. Ideas were discussed. Digital sound files were exchanged. New radio comedy bits resulted. Thus, two great comedy minds from both coasts were reunited, and from the bowels of cyberspace...the RADIO HOOLIGANS were again reborn!
The "radio" files of AOL's Music & Sound Forum were soon filled to bursting with Hooligan bits both new and old. AOL management was quick to recognize a good thing when it saw it and quickly signed the Hooligans to a fabulous deal. They were engaged to produce a new feature called the Comedy Sound Of The Week that would launch them to the cutting edge of cyber-comedy. And that's where you can find them today, straddling the cutting edge (wearing specially reinforced jeans).
ARE THERE GONNA BE NEW CHAPTERS?
Is the bear Catholic? Does the Pope shit in the woods? Does Clinton like women? Of course there's gonna be more to THIS story!
Watch this space for the future history of The Radio Hooligans. But don't hold your breath. (And don't worry, we have mints.)